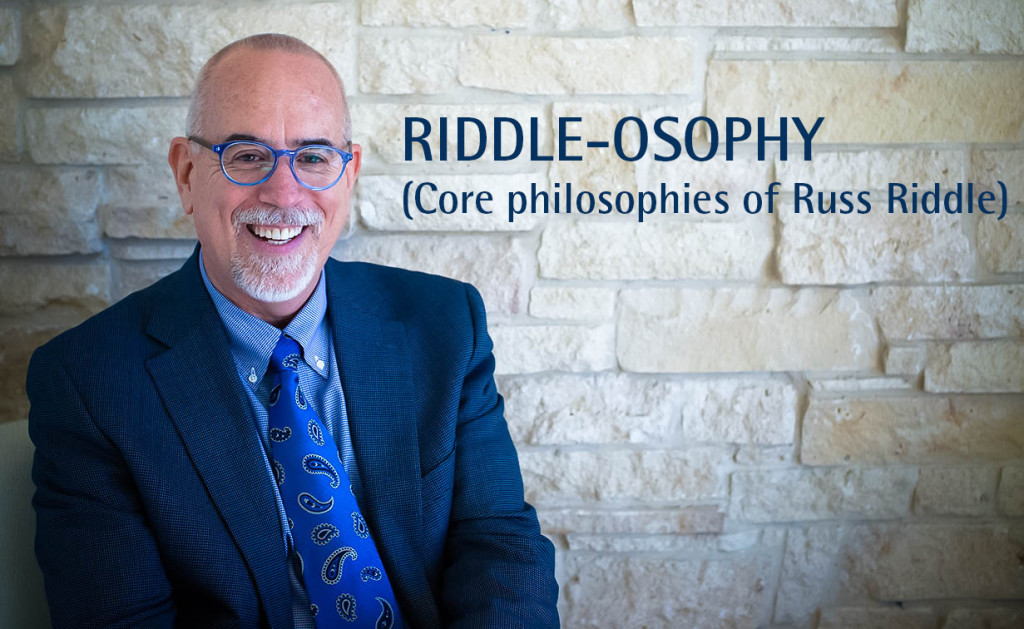 RIDDLE-OSOPHY (Core philosophies of Russ Riddle)
Core Philosophy # 1 – MOTIVATION ALONE IS MERE VAPOR.
If we don't act, our motivation dissipates.
Core Philosophy # 2 – WE ARE CREATED FOR ACTION.
Healthy bodies, minds and spirits require activity; they otherwise rust.
Core Philosophy # 3 – WHEN WE ARE INDECISIVE, WE ARE DEVISIVE.
Teammates want, need and expect our decisions, regardless of whether they agree with us. Otherwise, they become frustrated, then apathetic.
Core Philosophy # 4 – CHOICES ARE MADE WHETHER OR NOT WE VOICE THEM.
Silence and deference are choices.
Core Philosophy # 5 – LEARNING IS A LIFELONG ENDEAVOR.
The human brain has more RAM than we can ever deplete. But we must try, for the more we know, the more relevant and effective we become.
Core Philosophy # 6 – COMFORT ZONES IMPEDE PERSONAL GROWTH.
The greatest growth comes when we are stretched, tested and tried.
Core Philosophy # 7 – EVERYONE IS CREATIVE.
Each of us is unique, as are our thoughts and perspectives. We can express ourselves originally (creatively) if we choose. But laziness and fear of ridicule must first be overcome.
Core Philosophy # 8 – EXTREMES ARE ALMOST ALWAYS COUNTERPRODUCTIVE.
Balance is healthy. Extremes often manifest in obsession and/or abuse.
Core Philosophy # 9 – "FAILURE TO COMMUNICATE" IS A MISNOMER; WE ARE ALWAYS   COMMUNICATING.
But others' receipt of the intended message requires congruence of our verbal and nonverbal cues.
Core Philosophy # 10 – WE MUST BE COMMUNICATION SCHOLARS.
Effective communication is not innate; it's an ever-evolving craft that must be persistently honed.
Core Philosophy # 11 – TECHNOLOGY HAS MADE US 24/7 ACCESSIBLE, BUT RENDERED US LAZY COMMUNICATORS.
We must reboot our diligence.
Core Philosophy # 12 – LISTENING IS COMMUNICATION OF THE HIGHEST ORDER.
It's less about ears, more about empty minds and open hearts.
Core Philosophy # 13 – LEADERSHIP IS NOT TITLE, POSITION, AUTHORITY OR MANAGEMENT.
Leaders exude a compelling manner with people.
Core Philosophy # 14 – A GENUINE SMILE IS RELATIONAL ELIXIR.
Smiles soften hearts, open minds and draw people closer.
Core Philosophy # 15 – WHEN FOLKS HAVE FUN THINGS GET DONE.
Joy is energizing. When we're energized, we're more productive.
Core Philosophy # 16 – LEVITY BEGETS LONGEVITY.
When we lighten up, we liven up. Good cheer fends off excessive stress, burnout, pessimism and the demise those inevitably bring.
Core Philosophy # 17 – FUNNY IS ALL AROUND.
Humorists are acute observers.
Core Philosophy # 18 – THE BEST LEADERS LAUGH AT THEMSELVES.
Self-deprecation both humbles and humanizes.