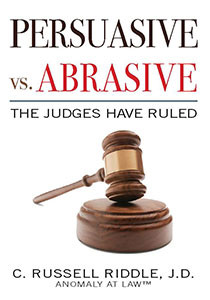 Persuasion is both craft and art. Fifty-five state district judges fear it's becoming a lost art!
Part of the problem is ego. But professional curriculum and university teaching customs also get in our way. Once common practices of persuasion are becoming buried in the process.
Ask yourself – Am I being abrasive when I think I'm being persuasive?
As good as you are at what you do, you (we all) can be better.
No matter the industry, we all must persuade if we are to succeed. Moreover, persuasion is a skill that must be honed.
Don't get discourse ahead of heart!
Don't allow human tendencies to become stumbling blocks.
DO put persuasion back in its proper order.
This book's brevity and simple organization is designed for easy carrying and reference as you go about your busy day. In the heat of battle.
Is your business and personal life worth the investment? You bet!
PRICE: $10.00 USD